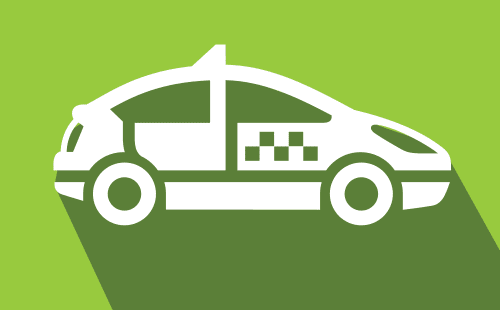 CANCUN AIRPORT TAXI
Travel Advisory 1: LEVEL HIGH
Passengers at Cancun Airport CUN are warned to ignore offers of transportation from solicitors outside the arrival terminals. If you book your transfer with an unauthorized company/solicitor online or at the Cancun Airport, then the airport IS NOT responsible if you are overcharged, services are not provided as described, If you paid CASH and can't get your money back, or if you get in an accident and the company/solicitor is not insured.
Taxi Cabs
Unlike other Airports, Cancun Airport Taxi Services MUST BE Pre-Arranged. In order to guarantee the lowest fare possible make sure you CONFIRM the rate and receive a confirmation number. Wheelchair accessible taxis are also available upon request. Below is a table with approximate fares to different destinations. Compare the difference in prices between Online fares and local fares.To calculate the EXACT RATE to your Destination PLEASE CLICK HERE.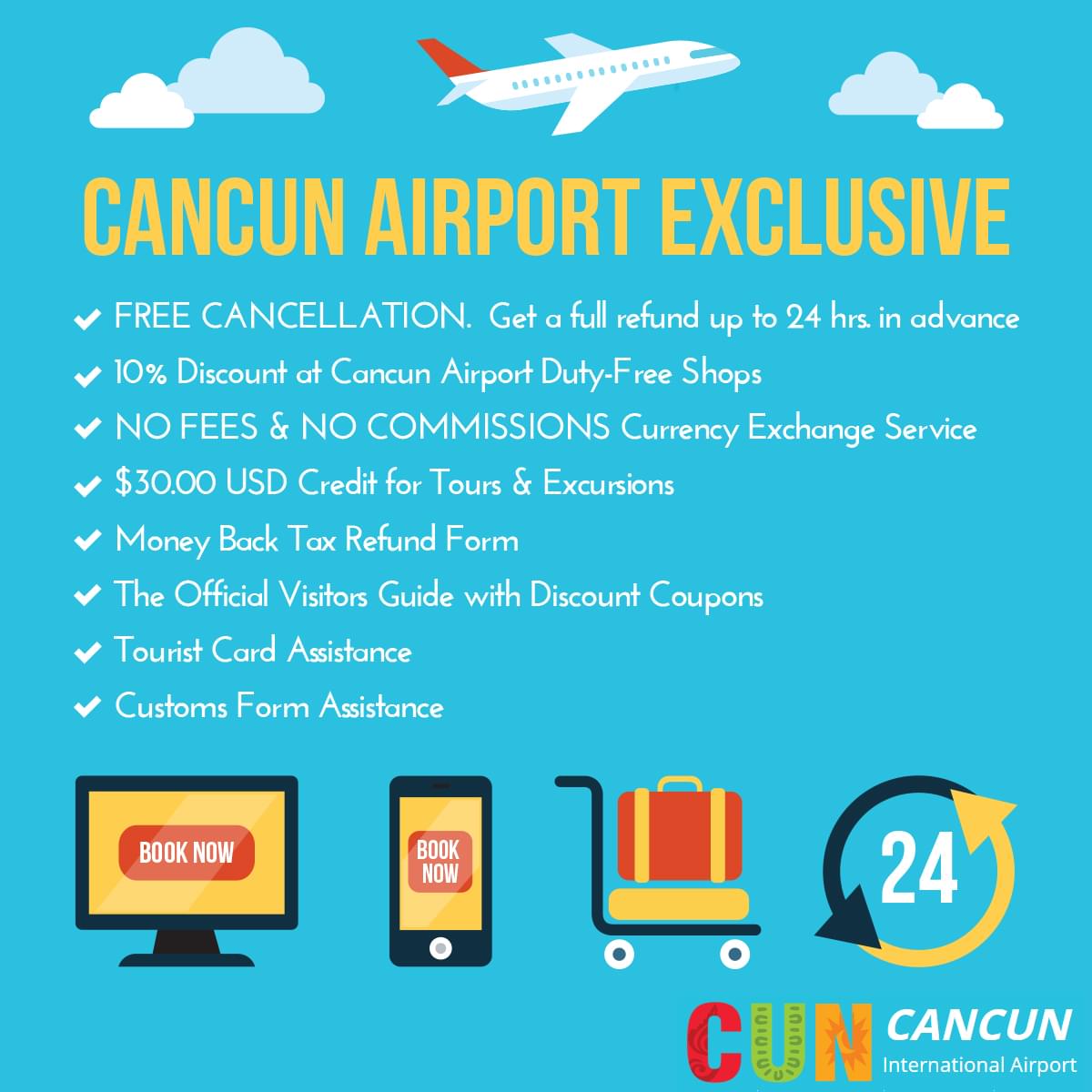 Cancun Airport Taxi Rates
Cancun Airport Taxi Rates
Destination
Online From
Regular Fare
Distance - Time
Cancun Hotel Zone
$24.85+
$45.00+
28 km - 30+ min
Cancun Downtown
$24.43+
$45.00+
17 km - 25+ min
Puerto Juarez
$24.64+
$45.00+
20 km - 27+ min
Puerto Morelos
$32.68+
$45.00+
26 km - 28+ min
Playa del Carmen
$44.14+
$70.00+
55 km - 45+ min
Puerto Aventuras
$51.12+
$96.00+
76 km - 60+ min
Akumal
$58.04+
$124.00+
92 km - 70+ min
Tulum
$64.63+
$124.00+
120 km - 100+ min
Tulum Hotel Zone
$71.50+
$175.00+
138 km - 120+ min
Here are the latest top Cancun Airport Taxi Safety Tips for Travelers from local experts and official authorities.
1. Confirm the Exact Rate and Tipping Range head of time
You can easily find out ONLINE the typical price range to your destination and the appropriate amount to tip. Having a good idea of what you should have to pay - and confirming the price with an online reservation ahead of time can mean less hassle when it's time to pay the bill. Many dispatchers can also tell you the price, so ALWAYS get a quote ahead of time. Click here to get the EXACT official rate to your hotel and confirm your reservation ONLINE.
2. Reserve a Cancun Airport Taxi instead of waiting until you arrive in Cancun
Unlike other cities YOU CAN NOT hail down a taxi at the airport in Cancun. You need to have a RESERVATION in order to get transportation to your hotel. Otherwise you will have to pay the LOCAL RATE instead of the ONLINE RATE which in some cases are up to 60% OFF the regular price (see table). Make sure that when you make your reservation you receive a CONFIRMATION and pick up instructions either by email or electronically. You will need your pick up instructions to make certain you are getting in the right vehicle with your assigned driver and always have handy our contact information in case you need to contact us. NEVER get in a vehicle that you are not sure about and ABSOLUTELY DO NOT ACCEPT any solicitation for Transportation.
3. No Soliciting!
Passengers at Cancun Airport CUN are warned to ignore offers of transportation from solicitors outside the arrival terminals. Solicitation of ground transportation at the airport is an illegal activity and solicitors are unlicensed and uninsured. To obtain safe, licensed, bilingual transportation services with discounts of up to 60% of the regular rates, please be sure to book your ground transportation ONLINE with an authorized transportation company prior to your arrival.
4. Look for a BADGE
All genuine licensed Cancun Airport Taxi and Transportation Companies have a badge permit displayed in their vehicle's windshields and are equipped with WI-FI and a radio/mobile to communicate with our dispatcher. ALL Cancun Airport Taxi Drivers are required to carry and display their Cancun Airport ID badge and wear a uniform . If you don't see our Official Badge on the windshield or the driver doesn't have an Official ID Badge, do not get into the vehicle.
5. Sit in the backseat and enjoy the ride
If you made your reservation ONLINE and got all the information ahead of time, you made the right decision. Your authorized professional driver will take you to your hotel or destination as soon as he/she gets the clearance from our dispatch.
6. Keep your important documents and expensive items close
All Cancun Airport Authorized Vehicles have plenty of room for luggage and carry-ons however keep your important documents like passports, tourist cards, and official IDs with you at all times during the transfer to your hotel or destination and make sure you have ALL YOUR BELONGINGS when you get to your destination. Vehicles are constantly transporting passengers so if you forget an item inside the vehicle we may not be able to find it if another passenger found it and kept it. So, please make sure you have pay attention to your luggage and personal items at all times.
7. Know where you're going ahead of time
This is another reason why is SO SO IMPORTANT you make a reservation ONLINE Have an idea where you're going ahead of time, and approximately how long it will take to get there. You can easily look this up online or on your smartphone, but be realistic about your knowledge of the area. While the Cancun Airport Taxi Driver may know a better route or one that avoids heavy traffic, if you think you are headed the wrong way entirely feel free to let us know a better way or a way that you know if you are a frequent traveler.
8. All Cancun Airport Taxis and Transfer Vehicles are inspected and authorized to transport passengers
By making your reservation ahead of time you are assured the vehicle assigned to you had been thoroughly inspected, licensed, and insured. All vehicles have A/C, Wi-Fi and are late model vehicles. Do not make the mistake to get in a vehicle that is not registered nor insured. Keep in mind that from time to time accidents do happen and you better make sure you are protected and insured by and authorized company.
9. Know your local currency MEXICAN PESOS
For your convenience ALL RATES ONLINE ARE QUOTED IN US DOLLARS In addition, when you make your reservation ONLINE you will pay with your Credit or Debit card that way so you don't have to worry about unscrupulous drivers giving your return change in discontinued or worthless bills. Nevertheless, it is a good idea to know enough about the local currency to identify the bills and coins you should use for payment.
10. Know who to call in an emergency
When you make your reservation online you will receive a confirmation and an email with all the numbers and information you need in case of an emergency. One more reason why it is so important that you make your reservation with a trusted company and NEVER wait until you get to Cancun to try to find a car/person that can take you to your hotel or destination.