Cancun is one of the most important resort destinations in Mexico. Founded in 1970, Cancun rapidly became known around the world for its spectacular turquoise blue waters and magnificent natural wonders. Nowadays, Cancun is a top worldwide destination with millions of visitors per year.
DOWNTOWN CANCUN AND HOTEL ZONE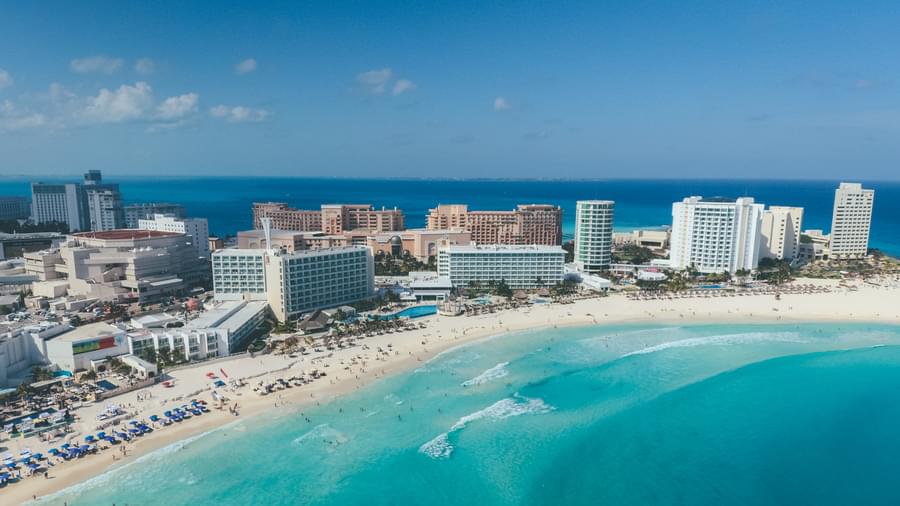 Cancun is divided in two zones, the city zone and the hotel zone. In the city you will find all the amenities and services of a developed community such as banks, restaurants, schools, churches, foreign consulates, markets, hospitals, etc. The hotel zone is the "tourist zone" where you will find all the fun activities and entertainment such as world class shopping, amazing hotels and resorts, fantastic restaurants and, of course, the blue sea beaches that makes Cancun an incredible place.
With 19 kilometers of powdery white sand beaches in the Hotel Zone and a quieter stretch of coast 15 kilometers north of downtown, Cancun is a beach lover's dream. Between Km 4 and Km 9, the north shore of the Hotel Zone has some of the most swimmable waters, while Isla Blanca, north of Downtown Cancun, beckons with its long stretch of relatively undeveloped coastline.
Most of the world has the image of a Cancun that is full of luxury, partys, resorts, and beautiful beaches. The hotel zone is certainly all that and more but if you are willing to explore the city, you will find great food and friendly people.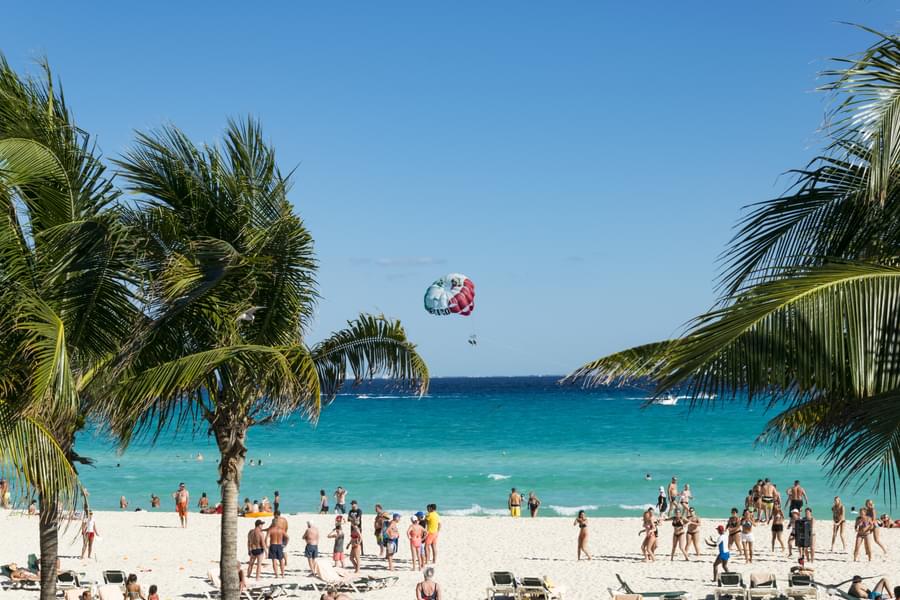 Things to do
Cancun's most common activity is relaxing on its beautiful beaches with a cold drink, taking a leisurely walk, or getting active with the variety of water sports available, such as swimming, water skiing, windsurfing, parasailing, snorkeling, and scuba diving.
Savvy Shoppers will find a number of options, including several upscale shops and stores in La Isla Shopping Village, Luxury Avenue and Kukulcan Plaza. In downtown Cancun you wouldn't want to miss a visit to Mercado 28 for affordable stores that offer handicrafts and gift shops.
There are also great scuba diving and snorkeling facilities nearby, including a famous museum of underwater sculpture. You can also take a tour to explore nearby cenotes and fascinating underwater caves. For nature lovers, a day trip from Cancún to the uninhabited island Isla Contoy is a great opportunity for walking, bird watching and snorkeling. And there is, of course, our stunning beach, where water activities include swimming, and kayaking and kite boarding.
There is so much to see and do and most of it can be done during day trips. For example, for a day of archaeological ruin hopping, you could start at The Museo Maya de Cancun, which is a world-class museum with over 400 Maya artifacts and can be found right in our Hotel Zone. You can also visit the adjacent San Miguelito archaeological site which is well worth visiting. Two kilometers heading south there is a site called El Rey, which has a small temple and many ceremonial platforms. Cancun's local Maya sites are not as massive as a place like Chichén Itzá, but when combined with a museum visit they provide fascinating historical background and they are a warm up for your visit to the ruins of Chichen Itza, Tulum, Coba or any of our amazing sites in the Yucatan Peninsula.
Day trips are available from many tour operators offering pick-ups from your hotel in the morning and return at the end of the day.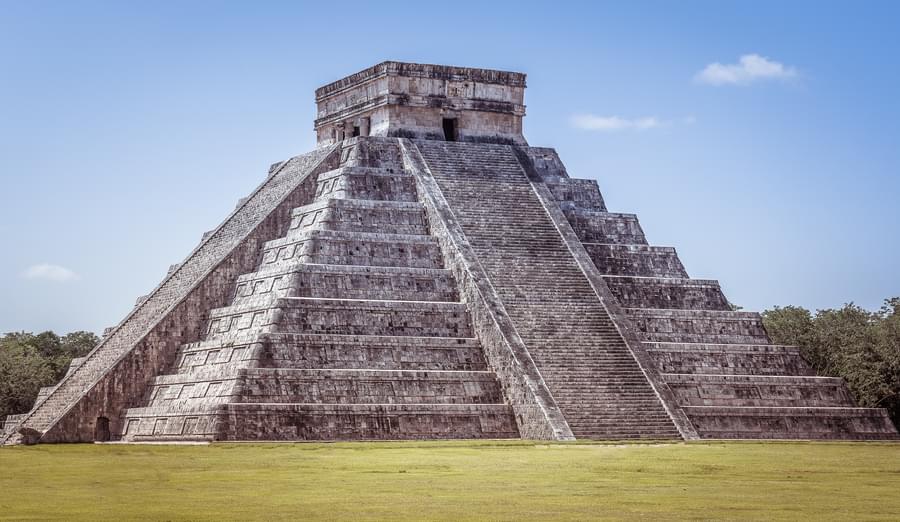 Cancun is also, an excellent starting point for exploring the Riviera Maya, and day trips to Playa del Carmen or the archaeological sites of Chichen Itza, Tulum, and Coba are easy. Day trips are available from many tour operators, which will pick you up from your hotel in the morning and return you at the end of the day.
Getting around
As a Top World Destination, Cancun is very accessible from every corner of the globe. All major airlines have direct or nonstop service to Cancun. Cancun International Airport is the only airport available in the area and every year more than 8 million passengers pass through its doors.
Entry and exit requirements
Everyone who travels to Mexico needs a passport and a tourist card. You can get this card from your airline, Mexico tourism office or Mexican consulate. For your convenience you can also get it online from this page. Upon your departure from Mexico, you will need this card, so be sure to keep it and your passport safe.
Going from the airport to your resort
Unlike many other airports in the world there are no taxis available at the airport. Also, keep in mind that currently Uber is not allowed to operate in Cancun. However, there are pre-screened companies, like cancun shuttle that are authorized to provide transportation services to your resort. For your convenience and security we have a transportation page where you can pre-book your transportation.
There are also ADO buses which can take you to Downtown Cancun, where you can take another bus to long distance destinations in the Riviera Maya and other places in Mexico such as Merida, Yucatan.
Transportation within the city
There are public buses running regularly throughout the city, including along Kukulcan Boulevard in the hotel zone. These buses are both practical and cost-effective.
It's also easy to find taxis almost everywhere you go. These taxis don't have a meter and have pre-defined rates. It's a good idea to ask the driver the cost of the ride before you get in the taxi to avoid surprises.
For questions regarding getting to your hotel or lodging in Cancun from the Cancun International Airport, please call our Transportation Services Desk toll free from the US & Canada at 1-888-414-0017 or direct from anywhere around the world at +52 998 848 0335. You can also contact us by email at [email protected]