CANCUN AIRPORT HAS REACHED 30 MILLION PASSENGER ARRIVALS
Diciembre 29, 2022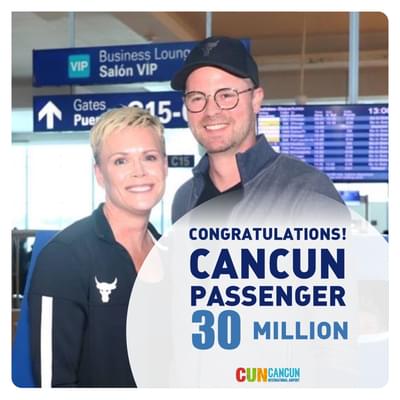 These are exciting times at the Cancun Airport. It has been announced that Mrs. Lisa Marie Stickly, originally from Indiana, has officially been named passenger number 30 Million to arrive at Cancun International Airport.
Our Governor, Mara Lezama, as well as other invited officials and managers, were at the airport in Terminal 3 taking part in the festivities. There was much excitement at the event with mariachi and music.
Clearly, Mr. and Mrs. Stickley love our destinations as Mrs. Stickley became the 30 millionth visitor to Cancun Airport while she and her husband were on their 5th consecutive visit to Quintana Roo, even before she knew she had reached this exciting designation. To offer even more excitement to the mix, the Stickley's celebrated their wedding anniversary while spending 12 days in our beautiful destinations!
Our Municipal President, Ana Patricia Perlata, gave Mrs. Stickley a wooden replica of the photographic letters of Cancun as a special remembrance of this moment. Also presented to Mrs. Stickley was the delivery of a certificate that recognizes her as the official 30 millionth passenger arriving at the Cancún International Airport. In addition, she was gifted a number of gifts from local tourism companies such as a hotel stay, plane flights, and sundries.
Congrats to Mrs. Stickley! We look forward to seeing you at our destinations again and again!